DO MAKE USE of LINKS,
>SEARCH<
&
>Side Bars<
&
The Top Bar >PAGES<
~~~~~~~~~~#########~~~~~~~~~~
.
Antibacterial Efficacy of Gold and Silver Nanoparticles …
.
~~~~~~~~~~#########~~~~~~~~~~
Posted by:
Greg Lance – Watkins
Greg_L-W
eMail:
Greg_L-W@BTconnect.com
The BLOG:
https://InfoWebSiteUK.wordpress.com
~~~~~~~~~~#########~~~~~~~~~~
.
Hi,
Antibacterial Efficacy of Gold and Silver Nanoparticles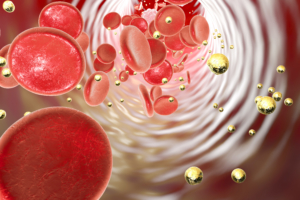 A wide variety of nanotechnological devices for the treatment of infectious diseases have been developed, including microemulsions, vaccines, and metallic- inorganic-lipid- and polymeric-based nanoparticles.

Metallic NPs such as silver (AgNP) and gold (AuNP) show unique and considerably distinct physical, chemical, and biological properties due to their high surface-to-volume ratio, with which surfaces can be modified with ligands containing functional groups, providing an electrostatic or steric stabilization.

Attached below is a 10 page 2017 Research Article published by Hindawi Journal of Nanomaterials on this subject of nanoparticle technology.

It is rather technical but it concludes:

"Currently, an intense investigation in nanotechnology and its applications in infectious or contagious diseases has led to the development of antimicrobial formulations from nanoparticles that act as an effective bactericidal agent. In this study, it was demonstrated that an increase in the antibacterial activity against Gram-negative bacteria appears when silver nanoparticles are capped with the UBI antimicrobial peptide, probably due to the multimeric or polyvalent arrangement of ligands distributed on the nanoparticle surface. Additional studies are required to understand the structure of multivalent nanoparticles and stabilization mechanisms not yet elucidated".
You can read or download the Article by CLICKING HERE
.
Regards,
     Greg_L-W
Greg Lance-Watkins
.
Tweet
& Link to my
My Blogs
To Spread The Facts World Wide To Give Others HOPE
I Have Been Fighting Cancer since 1997 & I'M STILL HERE!
I Have Cancer, Cancer Does NOT Have Me
I just want to say sorry for copping out at times and leaving my wife Lee and friends to cope!
Any help and support YOU can give her will be hugely welcome.
I do make a lousy patient!
.
If YOU want to follow my fight against Cancer from when it started and I first presented with symptoms in 1998 see The TAB at the Header of this Blog. called >DIARY of Cancer ….< just click and it will give you a long list of the main events in chronological order, many linked to specific blog postings. . Later in the sequence of my experiences with cancer you will note that I introduce some results and events most probably linked with cancer such as enlarged & damaged Prostate and a consequential Heart Attack leaving me with no right coronary artery! . I have also included numerous articles and anecdotes regarding health – primarily related to cancer, prostate and heart conditions – FYI! . Thoughts, articles and comments will be in chronological order in the main blog and can be tracked in the >ARCHIVE< in the Left Sidebar. . You may find the TABS >MEDICAL LINKS< and also >CANCER LINKS< of help, also many of the links in articles and >HOT LINKS< in the Sidebar.
.
YOU are welcome to call me, minded that I am NOT medically trained, if you believe I can help you in ANY way. .
~~~~~~~~~~#########~~~~~~~~~~
.
Posted by: Greg Lance-Watkins
tel: 44 (0)1594 – 528 337
Calls from 'Number Withheld' phones Are Blocked
All unanswered messages are recorded.
Leave your name & a UK land line number & I will return your call.
'e'Mail Address: Greg_L-W@BTconnect.com
Skype: GregL-W
TWITTER: @Greg_LW
DO MAKE USE of LINKS,
>SEARCH<
&
>Side Bars<
&
The Top Bar >PAGES<
I try to make every effort to NOT infringe copyrights in any commercial way & make all corrections of fact brought to my attention by an identifiable individual
.
Re-TWEET my Twitterings
https://twitter.com/Greg_LW

To Spread The Facts World Wide

eMail:
Greg_L-W@BTconnect.com
The BLOG:
https://InfoWebSiteUK.wordpress.com
~~~~~~~~~~#########~~~~~~~~~~