~~~~~~~~~~#########~~~~~~~~~~
Chronic Urinary Tract Infections as addressed by House of Commons 28-Oct-2016
~~~~~~~~~~#########~~~~~~~~~~
Posted by:
Greg Lance – Watkins
Greg_L-W
eMail: Greg_L-W@BTconnect.com
~~~~~~~~~~#########~~~~~~~~~~
Hi,
it does rather seem that the House of Commons has displayed a very notable disinterest in Urinary Tract Infections relative to the NHS budget; but of the 4 Labour MPs who had an interest in the subject, you will note, was the current leader of Labour – Jeremy Corbyn!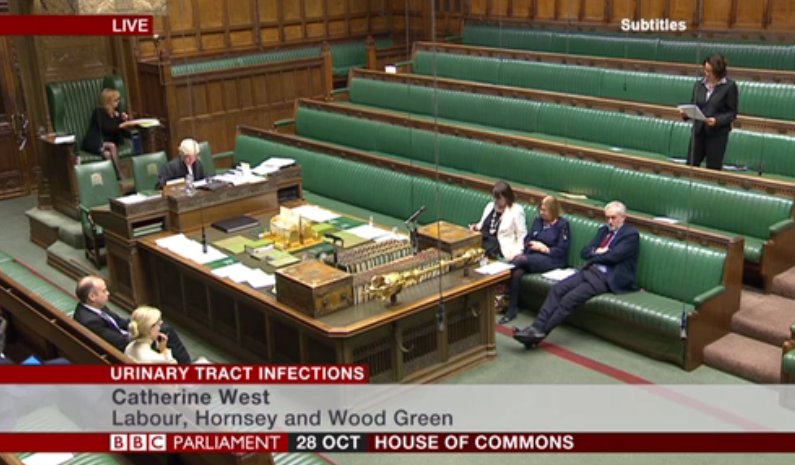 House of Commons Hansard
Chronic Urinary Tract Infections
28 October 2016
Volume 616
Motion made, and Question proposed, That this House do now adjourn.—(Chris Heaton-Harris.)
I am grateful for the opportunity to open this debate on the inadequacies of the current testing regime for people suffering from chronic urinary tract infections. I am happy to have been joined by other Members, and in particular by my right hon. Friend the Member for Islington North (Jeremy Corbyn), my neighbouring Member of Parliament, who has a long track record in defending services for patients with those conditions, and has worked closely with the Whittington hospital in that regard.

This subject has been neglected for too long, although it affects far too many people. Some 33% of women are expected to suffer from a urinary tract infection before the age of 24, and one in 10 girls and one in 30 boys have a UTI by the age of 16. The issue first came to my attention through the work of Professor Malone-Lee in his lower urinary tract symptoms clinic, which is run from the Hornsey central health centre in my constituency. Many of his patients are my constituents, but many others travel from all over the country and even from abroad to seek his expert help with complex, chronic bladder conditions that have made their lives a misery for many years. Some of them are in the Public Gallery today, including some who have travelled across the country to be here, so this is an important debate for all of us.

The devastation of those patients when Professor Malone-Lee's clinic was closed temporarily last year and the ongoing concern that I and many others have over the clinic's future have brought his unique methods into the spotlight. One patient told me that before she saw Professor Malone-Lee, she suffered every single day in pain, leaving her unable to function. Another told me that her life had not been worth living after 32 years of terrible pain and invasive treatments that failed to solve her bladder problems.

I am aware that the long-term future of Professor Malone-Lee's clinic is the subject of a review by the Royal College of Physicians, so I do not intend to focus specifically on his work today. Instead, I will talk about the wider issue, which my contact with the professor and, more importantly, with so many of his current and past patients has highlighted: the inadequacies of the current testing regime to diagnose urinary tract infections.

The gold standard for diagnosing urinary tract infections over the past 60 years has been to culture a mid-stream urine specimen and identify a pure growth of a known urinary pathogen within a range. However, such dipstick tests have been known to be deficient for many years, with data as far back as 1983 casting considerable doubt on the veracity of their findings due to the lack of sensitivity. Such tests cannot exclude acute or chronic urinary tract infections and do not take into account differences in bacterial strain virulence, host genetic variability, intracellular bacterial reservoirs or even the dilution of the urine specimen due to high liquid intake before the test. The standard laboratory culture will miss 50% of infections. That matters, because these are real people with real symptoms.

Too many people have told me that they have spent years reporting horrendous symptoms and suffering terrible pain, but that they have been dismissed and told that they do not have an infection because the culture was negative. That is to confuse the absence of evidence of disease with evidence of the absence of disease, when those are two wholly different things. What happens to the poor people whose symptoms are dismissed based on a test that experts know to be inadequate? Some will recover and others will find that a short course of antibiotics cures their symptoms, but far too many others will enter a cycle of repeated acute infections, exacerbated by sex, exercise, alcohol, certain foods, stress and many other of life's normal occurrences, causing devastation to their lives.

As many as 20% to 30% of patients fail to respond to the current recommended antibiotic treatment, whether it is prescribed for three or 14 days. That is not an insignificant number of people when one considers that the Cystitis and Overactive Bladder Foundation estimates that the condition affects about 400,000 people in the UK. Despite that, doctors are not being given the basic tools to inform them how to treat these symptoms differently, and they will not be until the health service revises the inadequate guidelines for testing and treatment. Professor Malone-Lee's clinic has clearly shown that there are different and more effective ways of testing. Many patients who have not responded to conventional treatment have seen their lives transformed by antibiotic treatment over a prolonged period.

I am well aware of the understandable anxiety among many clinicians and inspectors about antibiotic resistance and the evolution of superbugs. That is clearly something that cannot and should not be ignored, but it is not a reason to fail to question the current guidelines for the treatment of chronic urinary tract infection or to ignore their clear inadequacies. Neither is it a reason to fail to manage the care of those who do not respond to so-called conventional treatment options and to leave them in distress for months and, all too often, years. What evidence is there about the consequences of partially treated urinary infection in the long term? Safe strategies should be developed for helping people who present with particular problems that do not respond to the so-called guidelines. Data show that the NHS spent £434 million on treating 184,000 patients in 2013-14 in unplanned admissions associated with urinary tract infections. Failing to adequately treat these patients is expensive for our NHS and devastating for the patients themselves. The testing and treatment methods employed through the lower urinary tract symptoms pathway under Professor Malone-Lee are estimated to cost approximately £409,000 for 1,000 patients compared with a cost of approximately £5.3 million for 1,000 patients using conventional methods.

I urge the Minister to give this neglected subject the attention it deserves, and I would be grateful for answers to the following questions. Why are people with symptoms and signs being told that they have no infection on the basis of discredited tests? Why are the existing guidelines and policies so didactic when the published evidence implies that there is considerable uncertainty about our knowledge of the condition? Why do these guidelines base their conclusions on the results of quantitative urinary culture which has been so discredited? What is the NHS provision for adults and children with long-term chronic urinary infections? Finally, why is there no tertiary care facility for recalcitrant cystitis in the NHS?

I ask the Minister to meet me and other MPs with constituents who have been affected by the inadequacies of the existing guidelines so that we can discuss this issue in more detail. This is a cause of immense suffering for many people across the country who struggle to be heard and to be taken seriously. I know that I also speak on behalf of MP colleagues who cannot be here today—many have sent apologies—when I say that many of those affected would be very keen to meet the Minister in person to share their experiences. Will she today agree to have a meeting with representatives from patient groups?
I thank the hon. Member for Hornsey and Wood Green (Catherine West) for securing this important debate and for all the hard work she, alongside the Cystitis and Overactive Bladder Foundation, or COB, does in campaigning on behalf of people with urinary tract infections. I know that this issue concerns colleagues from across the House and I am pleased to see a number of them here, and welcome the right hon. Member for Islington North (Jeremy Corbyn) to the debate. It demonstrates the importance of this subject for so many of our constituents.

Interstitial cystitis, often referred to as painful bladder syndrome, or PBS, is a debilitating and lifelong condition which affects over 400,000 people in this country. Its effects not only cause great and often frequent physical pain, but, as those affected often have to urinate up to eight times an hour, it can also threaten their ability to sleep, work, attend school and maintain a social life. This in turn can, of course, have an adverse effect on the quality of life and even the mental wellbeing of those with the condition. It is therefore clearly crucial that those presenting with symptoms consistent with PBS are diagnosed as quickly and accurately as possible in order to receive the most effective treatment to minimise the devastating effects of the condition. We are alive to that.

I understand that PBS can be a challenging condition to diagnose and that both the hon. Lady and COB have concerns over the effectiveness of the NHS tests for diagnosing urinary tract infection using dipsticks in the urine and mid-stream urine specimens. I am also aware of the work of Professor Malone-Lee and the research that he and his team of researchers at University College London have carried out in this area. I know that she recently invited Professor Malone-Lee to speak to MPs on this matter and I am grateful to her for raising awareness of his findings, as this is one of the most effective ways of sharing best practice and changing behaviours.

I am the first Minister for public health and innovation, and I am always interested to hear of any new developments that could lead to more effective diagnosis and better outcomes for NHS patients. Enhancing the quality of life for people with long-term conditions is hugely important to this Government and an overarching indicator in the NHS outcomes framework. The earlier a condition such as PBS can be identified and receive the appropriate treatment, the more the patient will be able to manage their condition and maximise their quality of life.

Our National Institute for Health Research invests around £1 billion each year, and finding innovative solutions to help patients better manage chronic conditions is a vital part of this investment. The NIHR recently awarded about £l million to the University of Newcastle to run a trial looking at alternatives to prophylactic antibiotic treatment for recurrent UTIs. Another study is looking at the effectiveness and acceptability of urine collection devices to reduce contaminated urine samples in women presenting with symptoms of UTI. That is designed to improve accuracy of diagnosis.

We know that UTIs can be a serious burden for individuals and for the healthcare system, and we believe that clinician-led NHS commissioning should be responsible for making decisions about individual treatments on the basis of the available evidence, taking into account the relevant guidance from the National Institute for Health and Care Excellence as appropriate. NICE publishes quality standards to define clinical best practice for the diagnosis and treatment of conditions. These standards are designed to help those commissioning and providing services to understand what a good quality service looks like and to identify where improvements can be made. NICE published a quality standard on urinary tract infections in adults in June 2015. The quality standard comprises quality statements concerning the diagnosis, treatment and management of urinary tract infections. Quality statements 1 and 2 offer specific guidance on ensuring more accurate diagnoses of UTIs in adults. However, I understand that NICE has not yet addressed the specific issues relating to detecting UTIs raised by Professor Malone-Lee and his team of researchers.

As hon. Members will no doubt be aware, NICE guidance is kept up to date through periodic assessments of new evidence. The evidence surveillance team at NICE has been asked to take into account any publications emerging from Professor Malone-Lee's work when it next considers the relevant guidance for review. I would encourage Professor Malone-Lee, the Cystitis and Overactive Bladder Foundation and the hon. Lady to take this opportunity to ensure that NICE is kept updated with the latest research, whether it is existing work or research that is produced in future, as I have no doubt that it will be helpful in improving guidance in this area. Furthermore, NICE is an independent body—fiercely independent—and if there are any concerns about an existing NICE quality standard or other guidance, I would encourage those concerns to be taken up with NICE directly.

In more general terms on continence care, NHS England published new guidance in November 2015 to help to improve the care and experience of people with continence issues. This includes the most up-to-date evidence to support commissioners and providers. Once again, I am grateful that this important matter has been brought to my attention, and I hope that any further research will be considered by NICE in any future guidance so that we can continue to make improvements in the diagnosis and treatment of people with such a painful and debilitating condition. I will of course be happy to meet the hon. Lady and patient representatives to ensure that we can make the necessary progress in this area.

I know from personal experience the impact that a chronic, difficult-to-diagnose and hard-to-manage condition can have on a patient's quality of life. An early and clear diagnosis and a clear treatment pathway can truly be the light at the end of a very dark tunnel for many who are suffering with PBS. I hope that, as a result of the dogged championing of this cause by the hon. Lady and many others, and of the more robust evidence of innovative treatment options that NICE can evaluate, we will be able to offer the genuine hope and certainty that is clearly so urgently needed.

Question put and agreed to.
To view the original of this article CLICK HERE
Regards,
Greg_L-W.
~~~~~~~~~~#########~~~~~~~~~~
Posted by: Greg Lance-Watkins
tel: 44 (0)1594 – 528 337
Calls from 'Number Withheld' phones Are Blocked
All unanswered messages are recorded.
Leave your name & a UK land line number & I will return your call.
'e'Mail Address: Greg_L-W@BTconnect.com
DO MAKE USE of LINKS,
>SEARCH<
&
>Side Bars<
&
The Top Bar >PAGES<

Also:

ABOUT ME, Details & Links: CLICK HERE
Accuracy & Copyright Statement: CLICK HERE 
UKIP Its ASSOCIATES & DETAILS: CLICK HERE 
Leave-The-EU Referendum & BreXit Process CLICK HERE
Documents, Essays & Treaties: CLICK HERE
The Hamlet of Stroat: CLICK HERE
Data & The Study of a Wind Turbine Application: CLICK HERE
Des Watkins DFC; CdeG: CLICK HERE/
The Speculative Society of Edinburgh: CLICK HERE
Stolen Kids, Dunblane: CLICK HERE
Stolen Kids, Bloggers: CLICK HERE
Views I respect & almost Totally Share: CLICK HERE
A Concept of Governance Worthy of Developement: CLICK HERE
Skype: GregL-W
TWITTER: @Greg_LW
NB:
I NEVER post anonymously on the internet
ALL MY BLOGS & WEB SITES are clearly sourced to me
I do NOT use an obfuscated eMail address to hide behind
I do NOT use or bother reading FaceBook
I DO have a Voice Mail Message System
I ONLY GUARANTEE to answer identifiable eMails
I ONLY GUARANTEE to phone back identifiable UK Land Line Messages
I do NOT accept phone calls from witheld numbers
I Regret due to BT in this area I have a rubbish Broadband connection
I AM opposed to British membership of The EU
I AM opposed to Welsh, Scottish or English Independence within an interdependent UK
I am NOT a WARMIST
I do NOT believe the IPCC Climate Propaganda re Anthropogenic Global Warming
I AM strongly opposed to the subsidy or use of failed technologies eg. WIND TURBINES
I AM IN FAVOUR of rapid research & development of NEW NUCLEAR technologies
I see no evidence to trust POLITICIANS at any level or of any persuasion
I do NOT believe in GODS singular or plural, Bronze Age or Modern
I value the NHS as a HEALTH SERVICE NOT a Lifestyle support
I believe in a DEATH PENALTY for serial or GBH rape.
I believe in a DEATH PENALTY for serial, terrorist, mass or for pleasure murder.
I believe in a DEATH PENALTY for serial gross child abuse including sexual.
I do NOT trust or believe in armed police

I do NOT believe in prolonging human life beyond reasonable expectation of sentient participatory intellectual existence

I believe in EUTHENASIA under clearly defined & legal terms

I try to make every effort to NOT infringe copyrights in any commercial way & make all corrections of fact brought to my attention by an identifiable individual
Re-TWEET my Twitterings
To Spread The Facts World Wide
~~~~~~~~~~#########~~~~~~~~~~